Profile: Peace of the action
Published on:
11 Aug 2015
She's the grande dame of property. The woman who gets things done. After more than a decade as the property industry's most effective lobbyist, Liz Peace CBE is back. And she's in Birmingham.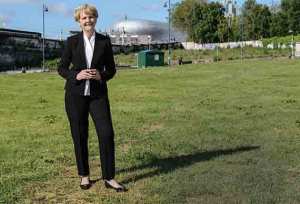 Peace retired from her role as chief executive of the British Property Federation in December to pursue charitable and non-executive interests. Then three months later – slap bang in the middle of this year's MIPIM event in Cannes – she announced her new role as chair of the fledgling Birmingham Curzon Urban Regeneration Company.
Curzon, as Peace refers to it, was formed in July 2014 by Birmingham city council. It will lead the redevelopment of the 348-acre Curzon Street area surrounding the city's planned HS2 station as set out in the council's Curzon masterplan (see box overleaf), and is the largest development opportunity on the £50bn HS2 rail link.
Such a heavyweight, long-term project requires someone with experience, tenacity and well-honed diplomatic skills. While the project was definitely of a scale that Peace could get her teeth into, was it also the opportunity to shape her home city that lured the 62-year-old, Hampshire dwelling, mother of two back to the Midlands – even if it is for just one day a month?
Peace remembers her formative years in Birmingham fondly. "I was born in the Queen Elizabeth Hospital and we lived in Kings Norton. Mum and dad worked at Cadbury's and dad, who was a carpenter by trade, leased land from the Bourneville [Village] Trust and started to build houses there. We were Bourneville dwellers and I was a Cadbury's girl through and through."
She adds: "As [fellow Brummie, John Lewis MD, GBSLEP chair and fellow Curzon board director] Andy Street said to me, 'we have to put something back'. I didn't need much persuading. With this role I feel I am coming home. There's a blank page and that's exciting."
Peace is working closely with the five other board members, including Birmingham council leader Sir Albert Bore and Birmingham council director of planning and regeneration Waheed Nazir. The company is expected to be incorporated by the end of the year.
Liz Peace CV
Born Birmingham, December 1952
Education King Edward VI Camp Hill Grammar School for Girls, Birmingham, Royal Holloway College, University of London, BA Hons History
1974-90 Various roles within the Ministry of Defence, having started as administrative trainee
1990-02 Company secretary and director of corporate affairs for QinetiQ, formerly the Defence Evaluation and Research Agency of the MoD
2002-14 Chief executive of the British Property Federation
2008 Made a Commander of the British Empire in the New Year Honours
March 2015 – present Chairman of the Birmingham Curzon Urban Regeneration Company
Lifestyle Married with two sons. Enjoys reading, opera, fitness, conservation, gardening
Nazir explains: "We wanted Liz because she's one of the few people who genuinely understands the complexities of the public and private sectors. She will bridge relationships and challenge both sectors' decision-makers without offending them. That is a rare talent."
With Peace effectively working for Birmingham council, will she be expected to toe the public sector line? Nazir says not. "Liz is not going to be a puppet. She's already been very vocal and started challenging local authorities around her Curzon Street station solution."
She is spending her monthly Birmingham trips meeting key stakeholders and property folk, and touring key sites such as the Custard Factory in Digbeth and Fazeley Studios where there are plans to create a larger creative quarter, while also having various meetings in London. The role is more than that of just a figurehead, but has to be juggled with five other non-executive directorships.
"It's very early days, but if this one really takes off then I may have to give up one or two of the others because this really interests me."
However, with no planning powers and no money of its own as yet the organisation remains a facilitator, or as some commentators unkindly suggest, a tiger with no teeth. "We're a co-ordinating body to put Digbeth and the Curzon area on the map. The council wants us to be a delivery vehicle with specific powers similar to itself. Things may evolve."
Last November, KPMG was appointed to advise on the organisation's financial modelling and mechanisms for delivery. Peace says: "There are a number of asks we have of the treasury to bring forward the masterplan."
An extension in geography and timescale of the city centre enterprise zone is a top priority when negotiating growth strategy with the government. The company wants to see the 10 sites within the Curzon and Digbeth area covered within the EZ (which has 26 sites within it). Plus an extension in the EZ's timescale to 2046.
Another priority has been working out what is needed from central government to make things happen before HS2 comes on line in 2026 – just two property cycles away, says Peace.
The overall package Curzon hopes to win from central government totals over £658m for the period from 2015 to 2037. For the period from 2015 to 2028, around £340m will be needed for the first phase of infrastructure, which includes £130m through the growth deal funding allocation for the Midland Metro extension to Curzon. Peace says: "We need to get the treasury to agree that the Metro extension between Curzon and Smithfield will happen. It's crucial."
The second phase will be for more than £250m for the period from 2029 to 2037. Community infrastructure levy proceeds will also be used as well as the uplift in business rates from the EZ.
Government agreement is now needed on how funding is structured. "We're asking for very little direct money from the government. There's huge access to money with very little risk," she says.
So, what will realistically happen in the Curzon masterplan area over the next five years? Peace says: "There is already development happening in the Curzon area and quite a few sites that already sit within the EZ. Development should push out in waves from the station. In five years it's perfectly realistic to think of two or three major developments happening in and around that area."
Could one of those be Martineau Galleries? "I don't see why not," says Peace, "It's been sitting there as a hideous heap for far too long!"
Peace and the council are keen to get things moving there and are in talks with Hammerson about pushing forward on the long-awaited Martineau Galleries site, which Hammerson took full control of earlier this year. "Hammerson is excited and does see itself as a crucial part of the Curzon vision."
The site has an existing consent for a mixed-use development of 2.9m sq ft. However, plans were mothballed in 2009. Development is likely to be revised down in scale and be office and residential led with an element of retail and leisure as outlined in the Birmingham Curzon masterplan.
Peace will not be drawn into the detail, however, Hammerson is said to be poised to set up a joint venture with London & Continental Railways to unlock development. The state-owned railway property development company was involved in a number of regeneration projects on former railway land, including King's Cross Central, Stratford City and Manchester Mayfield, and was heavily involved with the HS1 project.
Talks are said to be taking place to exchange heads of terms to create a partnership to redevelop the six-acre site, although Hammerson wouldn't comment. The government is said to be planning to use LCR as a way to bring forward regeneration around HS2 stations. Hammerson will want to capitalise on the new rail link's proximity to its site and LCR's national experience with HS2. It is believed to be one of the first partners LCR will work with on such projects in the UK.
Peace has also set her sights on revitalising the long-time vacant Curzon Street station and is in talks with English Heritage about using it in the interim as possible exhibition space on how Digbeth could look post-HS2. "At the moment I'm talking to everybody. There's a lot to do and I'm enjoying it immensely."
---
Key facts: Birmingham Curzon HS2 masterplan
• Launched February 2014 by Birmingham city council
• Sets out vision for creation of a world class integrated HS2 terminus, alongside major development and regeneration opportunities
• Masterplan covers 348 acres surrounding the city's HS2 terminus at Curzon Street
• Includes proposals for more than 8.2m sq ft of new commercial space
• The regeneration of the Curzon area to deliver 2,000 new homes and 14,000 jobs