World hot spots 2015
Published on:
16 Feb 2015
As the global economy continues to recover, so too does the volume of investment and development opportunities outside the UK. Keeping a firm eye on the worldwide hot spots will be crucial for staying ahead as the property sector gears up for another busy year. But where to go? Emily Wright offers some suggestions
Commercial
Early indications show that investment in European commercial property this year is likely to hit €175bn-€180bn (£138bn-£142bn), according to Knight Frank's European Commercial Property Outlook 2015. But where are the funds expected to go? And which countries look set to be left out in the cold?
Top five global cities for commercial opportunities
1 San Francisco
2 New York
3 Singapore
4 Sydney
5 Mumbai
For the markets to watch further afield, predictions suggest that commercial opportunities in the above cities worldwide – based on office rental growth expectations – will make them strong investment and development havens.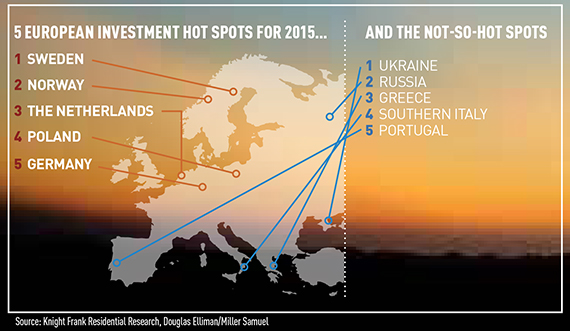 Residential
When it comes to the prime residential market, Knight Frank's Prime Global Cities Forecast Report for Q4 2014 predicts the following patterns in 2015 based on analysis of eight major cities worldwide.